You are worth gold!
If that's not an all-important Valentine's Day message....!
Homemade with love. These gifts are perfect for your valentine.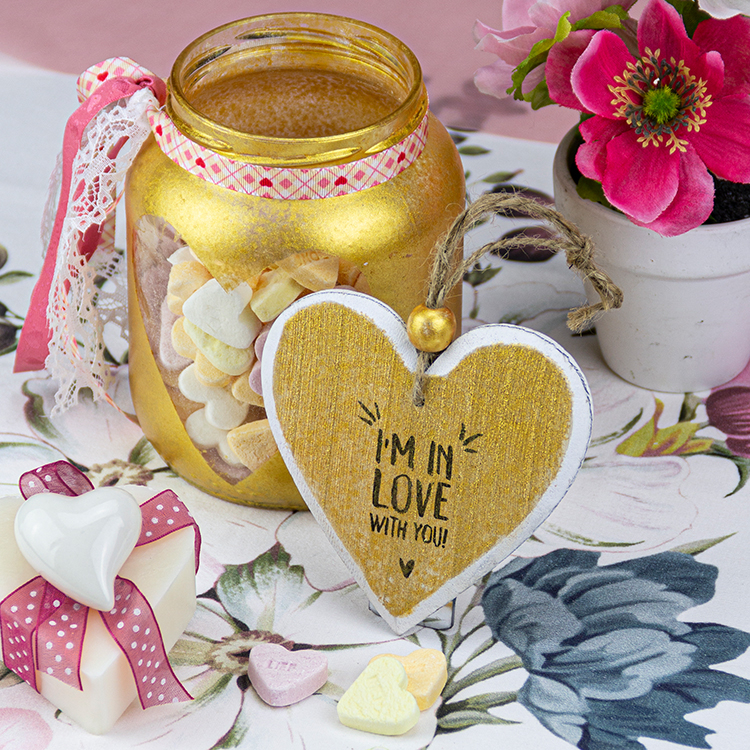 How do you make this?
Candy jar
Trace the wooden heart with a pen onto the self-adhesive foil.
If necessary, draw the heart a little bit smaller so that it will fit nicely on the jar of your choice.
Remove one side of the foil and stick the heart on the jar.
First apply a coat of White Gesso.
Now you can apply the gold paint with a sponge.
Make sure the whole jar is well covered.
Also paint the lid in the same gold shade.
Let this dry completely.
When the jar is dry, you can tie various ribbons around it.
Fill the jar with candy.
While it is drying you can already start with the next project.
Wooden heart:
Before you start painting, remove the cord from the heart, so it stays nice and clean.
Apply the gold paint to the wooden heart, leaving the edges white.
Paint the bead gold as well.
Tip: You can easily paint the bead by sticking it on the back of a brush.
Let everything dry well.
When the heart is dry, you can print the stamp with black stamping ink.
With the black marker you can add small 'doodles' such as hearts and stripes.
Thread the cord through the heart again and attach the bead on top.
Keychain 'House+Love=home':
Tie the leftover ribbon (which are left over from the jar) to the wooden hanger.
You can edit the wooden hanger, but it is also very beautiful blank.
In the example, we glued a wooden heart on it and wrote the text 'House+love=home' on the back.
A nice Valentine's gift but also nice to give as a gift at a new home.
What do you need?
Candy jar
A glass jar
Decorative ribbon set (45237)
Extreme sheen paint, gold (31780)
Sponge sticks (6762) or a roller (94585)
Self-adhesive foil (19755)
Wooden heart:
Extreme sheen paint, gold (31780)
Wooden heart (44994)
Fudebiyori black (250195) or a PITT artist pen (167099)
Stamp (42397)
Black stamp ink
Keychain 'House+Love=home':
Wooden pendant house (44678)
Decorative ribbon set (45237)